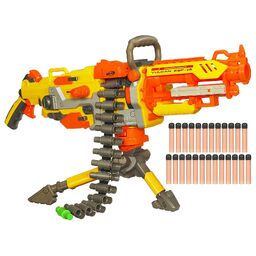 An electronic belt fed (abbreviated as EBF with N-Strike number codes) blasters is a category of fully-automatic Nerf blasters released under the N-Strike series.
Details
As the name states, they run off of batteries and use belts to house darts for firing. The only electronic belt fed blaster is the Vulcan EBF-25, which has two firing modes: automatic fire with the use of the batteries or single-fire by manually priming it.
History
The electronic belt fed category was the first electronic N-Strike category, followed by the electronic clip system and electronic revolver categories.
While under prototype stages, the Vulcan EBF-25 was known as the Vulcan BF-50, which could show that the initial name for the category would have been simply belt fed. This would have meant the category would have not been electronically-operated.
The Vulcan EBF-25 was re-released in the N-Strike Elite line in 2013, however it has still been the latest blaster released in the electronic belt fed class. It is unknown if any further blasters will be released under this class.
See also
Ad blocker interference detected!
Wikia is a free-to-use site that makes money from advertising. We have a modified experience for viewers using ad blockers

Wikia is not accessible if you've made further modifications. Remove the custom ad blocker rule(s) and the page will load as expected.