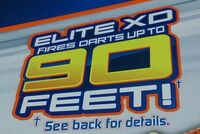 Elite XD (or Mega XD) is a blaster performance feature within the N-Strike Elite, N-Strike Mega, and N-Strike series.
Details
Blasters equipped with Elite XD feature more powerful internals, which supposedly boost firing range up to ninety or eighty-five feet (twenty-seven or twenty-five meters in Europe) depending on the blaster.
Hasbro's performance claims are however, not true, as blasters re-released in 2014 to be Elite XD blasters feature little or no boost in firing ranges.[1]
The Elite XD firing range claims have become the standard firing range claims for all Nerf blasters that were released in 2016 and 2017.
History
Elite XD was introduced in 2014. Every new blaster released under the N-Strike Elite series that year featured a performance boost compared to previous blasters; re-releases of older blasters with supposedly upgraded internals also came out that year. However, the re-releases were tested to not feature performance boosts.[1]
Elite XD products
Mega XD products
Trivia
Elite XD is known as NCV in Japan.
References
↑ 1.0 1.1 ZergRush (2014-11-28). The Nerf Elite XD Mega-Test. BlasterLabs.com.