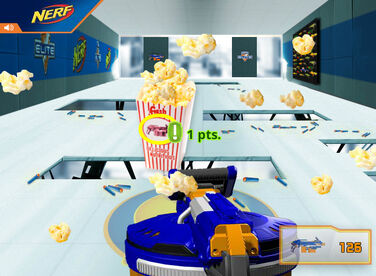 Hail-Fire Test Labs is an online game on the Nerf website. The objective is to blast at various objects, including bobbleheads, trophies, snowmen, safes, skateboards, fire extinguishers, bags of popcorn, and trash cans. Each object has a "weak spot". If shot, will give the player four points, and will rain down various objects on the screen.
Details
The game begins with an introduction screen pointing out various abilities of the Hail-Fire as well as components of the blaster. Upon pressing start, a screen with instructions appears and the game officially starts.
The player starts out in a white room, decorated with Nerf and N-Strike Elite logos, with a Hail-Fire loaded with 144 Elite Darts. Random objects will pop up for the player to fire at them. Hitting one of them will award one point, while hitting its "weak spot" will award four. The game ends when the player run out of darts.
After the game ends, a screen will appear showing how many points the player scored and how many challenges they had completed, with the option of trying again at the bottom. There are twelve possible challenges for the player to complete in the game, with the option to restart the game after running out of darts to continue to complete challenges.
Featured blasters