Magstrike
Talk

0
666pages on
this wiki
Magstrike
Brand
Nerf
Series
Dart Tag
Blaster type
Single-fire air-powered dart blaster
Stock ammunition type
Tagger Micro Darts
Stock capacity
10
Size
18" long
45.72cm long
Weight
?
Year released
2004
Average retail price
?
Not to be confused with the N-Strike Magstrike AS-10.
The Magstrike is an automatic air-powered Nerf blaster that was released in 2004 under the Dart Tag series.
It comes packaged with twenty Tagger Micro Darts and two Magstrike clips.
It can still be purchased in Australian stores.
This blaster succeeded the old 1999 Powerclip DX1000 from the Airjet Power Plus series. It was later re-released as the Magstrike AS-10 under the N-Strike series.
Color schemes
Edit
The Magstrike has been released with the following color schemes:
Reloading and firing
Edit
To reload the Magstrke, load up to ten darts into one of the packaged clips. The clip is then loaded into the blaster. It is primed by pumping the blaster; for maximum power, the blaster must be pumped about twenty times[1]. To fire darts, pull back the trigger.
Magstrike
Medium blaster
Category
Score
Notes
Firing range
8/10
The Magstrike has a wide range, firing anywhere from twenty to forty feet straight.
Accuracy
7/10
The Magstrike is not particularly accurate. However, because of the blaster's large amount of darts, it can hit targets rather well.
Reliability
8/10
This hardy Nerf blaster is unable to jam. The only problem with the blaster is with how the clip works. As the blaster is fired, the clip raises out of the blaster and occasionally may fall back in, skipping shots and wasting air on already empty chambers. Only one or two clips come with the blaster, depending on the type purchased, and they are hard to store due to their size.
Rate of fire
10/10
The Magstrike has one of the highest rates of fire of any Nerf blaster, firing at about eight to ten darts per second. Unfortunately, reloading the clips and pumping is a real pain.
Capacity
10/10
The Magstrike can hold one clip of ten darts at a time.
Final score
8.6/10
The Magstrike is an all around great Nerf blaster. The blaster works best at short to medium ranges, and like all high rate of fire Nerf blasters, the Magstrike is an excellent ambush and position holding weapon.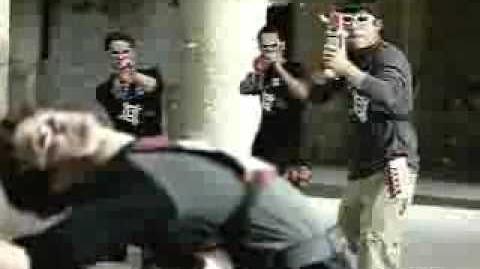 This is, to date, the only air-powered Dart Tag blaster.
References
Edit
↑ SG Nerf (2008-11-18). SgNerf: Nerf Magstrike - Review!. sgnerf.blogspot.com.