Home
Talk

88
1,100pages on
this wiki

Nerf-related news
Official news
Community news

February 17, 2014

July 16, 2013

July 11, 2013

June 27, 2013

June 22, 2013

May 28, 2013

May 25, 2013

Nerf announces "big news" for next week on Twitter and Facebook.

February 9, 2013

January 21, 2013

The London 2013 Toy Fair is held. MyLastDart was given an interview and was allowed to test new products. Dart Tag will now be exclusive to Toys "R" Us in the United States. N-Strike is being slowly discontinued.

Feburary 9, 2013

The annual New York Toy Fair is held.

January 22, 2013

The annual British Toy & Hobby Association Toy Fair in London is held.

December 10, 2012

December 3, 2012

November 27, 2012

November 25, 2012

Hasbro Australia announces the official Australian release dates for 2013 products:

September 9, 2012

The Hail-Fire is officially released into stores.




January 10, 2014

July 25, 2013

January 19, 2013

Argos UK lists an N-Strike Elite Alpha Trooper in its catalog and on its website, as well as a new Dart Tag blaster.

December 11, 2012

November 24, 2012

November 15, 2012

A Nerf commercial actor posted (and later removed) images of the Strongarm (N-Strike Elite) and Rough Cut 2x4 blasters. He also mentioned something about a "Nerf Evolution" commercial. Leaked images can still be found on Urban Taggers.

October 23, 2012

October 17, 2012

A leaked image of the N-Strike Elite Firefly Tech clip surfaces on Urban Taggers.

October 16, 2012

October 11, 2012

A leaked image of a Super Soaker water-storing backpack on Urban Taggers shows off new Super Soaker blasters.

October 9, 2012

Leaked images of a glow-in-the-dark Elite Dart refill pack on Urban Taggers shows packaging art for the Stryfe, as well as a possible N-Strike Elite re-release of the Rayven CS-18.
Featured article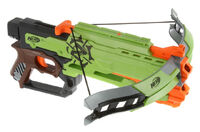 The Crossfire Bow is an upcoming Nerf blaster that will be released in 2014 under the Zombie Strike series. It is a crossbow-like blaster that features a priming rod that is connected to its bowstrings. It also features a tactical rail, an attachment point for detachable shoulder stocks, one sling point located under and in front of the firing trigger. ....... (read more)
(Archive)
Monthly Nerf poll
What recently announced blaster are you most excited for?

Previous poll: Which barrel extension would you like to be sold separately?

Winner: Longshot Front Blaster (38.16%)

If you have a suggestion for the next poll, leave it in the Poll talk page.

(Archive)