The Modulus ECS-10 is an electronic clip system Nerf blaster that was released in fall of 2015[1] under the N-Strike Modulus series. It requires four "AA" batteries for operation.
It comes packaged with a Precision Scope, Storage Stock, Dual-Rail Barrel, Drop Grip, a banana clip, and ten Elite Darts.[1]
Details
The Modulus is an electronic clip system blaster. It is unique in that, with its included accessories, it can be configured, equipped, and used in over thirty different ways.[1] It features five tactical rails, an integrated carry handle, and barrel extension and detachable shoulder stock compatibility. Similar to the Demolisher 2-In-1, the clip release button is located just behind the clip well, in front of the firing trigger.
It advertises a firing range of up to ninety feet (twenty-seven meters).
Reloading and firing
To reload the Modulus, press the clip release button to remove any empty clips. Load up to ten Elite Darts into the provided banana clip. Load the clip into the blaster.
To fire a dart, hold down the acceleration trigger. The user may wish to wait for the flywheels to spool up for maximum range. Pull the firing trigger to fire a dart.
Trivia
This blaster is the second to come packaged with a banana clip, the first being the Demolisher 2-In-1.
The Modulus is tied with the RapidStrike CS-18 for the second most tactical rails on a single Nerf blaster- five. The blaster with the most, at six, is the Stampede ECS.
There is a rerelease of the Modulus where they fixed the problem with the stock flexing and fixed the uncomfortable grip.
You can actually make an infinite amount of combinations with the Modulus because of the barrel extensions you can buy with the blaster.
Gallery
References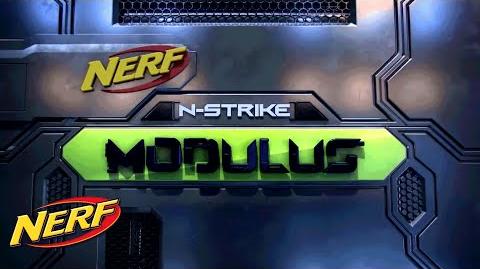 ↑ 1.0 1.1 1.2 1.3 MasterBlaster (2015-01-20). Nerf Modulus Details Emerge. BlasterLabs.com.
Ad blocker interference detected!
Wikia is a free-to-use site that makes money from advertising. We have a modified experience for viewers using ad blockers

Wikia is not accessible if you've made further modifications. Remove the custom ad blocker rule(s) and the page will load as expected.