This series has been discontinued.

Its products cannot be purchased in retail stores.

The Monster series is a hybrid series of Larami Super Soakers that began in 2000.
Details
This series is a hybrid of the successful Super Charger and CPS lines; it features CPS-style soakers with Super Charger technology. This line is known for having the largest Super Soaker ever released, the Monster XL. The three soakers in this series were all large, elastic-pressured soakers.
This series also had its own Q.F.D. ("Quick-Fill Device"), which as used from the Super Charger line. It featured a different color scheme and is sturdier, being made of a thicker, harder plastic than the Super Charger version of the Q.F.D.
History
After three soakers and several re-releases, the lineup was discontinued after 2002 alongside CPS. No soakers from this series continued on, with the exception of the Monster, which was later re-released as the CPS 4100 with the Q.F.D. compatibility removed.
Q.F.D.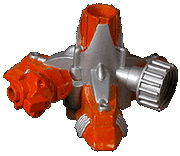 Main article: Quick-Fill Device (Monster)

With the introduction of the Monster series, the Q.F.D. of the Super Charger series was also given an update. This particular model was stronger and made of harder plastic than previous Q.F.D. models. This allowed it to support the weight of the massive Monster series soakers. This is also notably the last Q.F.D. model produced.
Monster products
Super Soakers