Retaliator
Talk

28
1,200pages on
this wiki
Retaliator
Performance information
Blaster type
Single fire dart blaster (direct plunger)
Stock ammunition type
Elite Darts
Stock capacity
12 (clip)
Size
26" (66.04cm) long fully assembled
13" (33.02cm) long without accessories
Weight
1.5 lb (0.6kg) fully assembled
0.85 lb (0.39kg) (blaster alone)
Release information
Brand
Nerf
Series
N-Strike Elite
Year released
2012
Average retail price
24.99 USD
29.99 CAD

The Retaliator is a Nerf blaster that was released on August 1, 2012 under the N-Strike Elite series.
It comes packaged with a barrel extension, shoulder stock, assault grip, twelve Elite Darts, and a twelve dart clip.
Details
It features one tactical rail on the priming slide. However, when the supplied barrel extension is attached to the blaster, there are two additional tactical rails; one on top and one below the barrel. It also has a clip point on the handle of the blaster for use with a strap or another carrying accessories, as well as room for a spare dart in the handle. At the end of the blaster and on the stock attachment area, there is a priming indicator. On the end of the barrel there is also a flip up sight.
History
The Retaliator is a direct successor to the 2008 N-Strike Recon CS-6.
It was re-released in 2014 with improved Elite XD internals and a white, blue, grey, and orange color scheme; this re-release was shown off at the 2014 New York Toy Fair.
Color schemes
The Retaliator has been released with the following color schemes:
Value packs
The Retaliator (sans accessories) is included in the Rapid Strike Mission Kit, along with two eighteen dart clips and thirty-six darts. The European release of the Rapid Strike Mission Kit features a Retaliator with considerably fewer paint operations than all other releases.
Reloading and firing
To reload the Retaliator, move the priming slide back and press the clip release button to remove any empty clips from the blaster. Load up to twelve Elite Darts into the packaged clip. While holding down the clip release button, load the packaged clip into the blaster. Move the priming slide forward to prime the blaster.
Pull the trigger to fire a dart.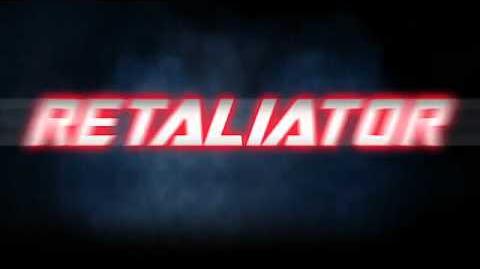 Trivia
Gallery