The tactical ammunition storage is a Nerf tactical rail attachment that was released in 2010 under the N-Strike series.
It comes packaged with the standard and Sonic Barrel Break IX-2 and can not be purchased separately.
Details
It can hold up to eight extra darts and is ideal for quick reloading. Streamline Darts are known to sometimes fall off the tactical ammunition storage due to the tip surface. It fits onto any blaster via tactical rail. Each area to store the dart has a tiny ridge, which allows the dart to stay comfortably within the unit without falling out.
Color schemes
The tactical ammunition storage has been released in the following color schemes:
Variant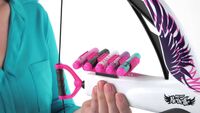 A similar accessory was sold with the Rebelle Heartbreaker Bow. This variant held only five darts and bore a slightly remodeled design. It is substantially smaller, although still functions the same.
This variant has been sold in the following color schemes:
Another similar accessory was sold with the IonFire. This variant only held 4 darts.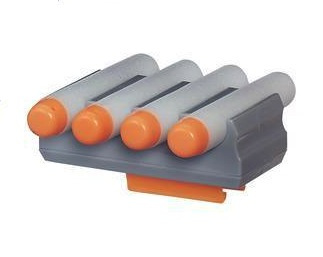 Trivia
The darts sometimes fall out when taking the tactical ammunition storage off.
Three dart holders on the storage are elevated; the reason for this is to accommodate the mechanism that holds it on the rail.
It was not included with the 2013 Elite Repaint re-release of the Barrel Break.
Ad blocker interference detected!
Wikia is a free-to-use site that makes money from advertising. We have a modified experience for viewers using ad blockers

Wikia is not accessible if you've made further modifications. Remove the custom ad blocker rule(s) and the page will load as expected.