Hello, Nerfers!
I am PsyclOwnd, and I joined on the 23rd of July 2012, but I have been using this website for about a year now. I have spent over 100 dollars on Nerf Guns and Accessories.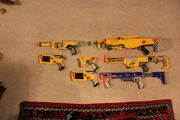 I have, as you can see (in chronological order of having them), the Nite Finder EX-3, the 2 Maverick REV-6, Recon CS-6, Longshot CS-6, Raider CS-35(My personal favorite), and Spectre REV-5. However, I do have a Secret Strike AS-1, Bandolier Kit, and I have bought extra packs of darts (inevidable). I enjoy having wars with my friend, who also has a Recon and a Maverick. he is very jealous. I do have a friend with a Vulcan EBF-25. I win at nerf wars a lot, as my friend usually sets up behind a couch, and I set up behind a table in my hall. we do sometimes, go to our local church and set up tables, chairs, and chalkboards, which actually is very fun. for anyone who wants me to rate my guns, the Spectre is better than the Mavericks and Nite Finder, and the Raider is better than the Recon and the Longshot. The Raider is better than the Spectre, and that is all I will say on those lines.
I have 4 6-Dart clips, and one 35-dart Drum. I ALWAYS take off the battel extenstions for the Spectre, Longshot, and Recon, becuase they are just impractical. My favorite stock is definatley the raider stock, and I only use the recon stock for a clip, and the spectre stock is never on a sun for shooting.
I don't know why people care for the sights on the nerf guns or the scope, becuase I can easily calculate where it is going to go, and I can shoot without even looking down the sights. It is so easy to do, it is insane! once, me and my friend with a single raider with a drum and a recon with one clip took on a raider with 2 6-dart clips, a recon with a clip, 2 mavericks, a spectre, and a dart tag gun that holds 10 darts and won. Noobs lost. Bad.
If anybody wants to know anthing about me (except too personal), or anything about my arsenal, ask away!